Free and Quick Translation into 11 Languages - Traducción Libre y Rápida al Español
For your convenience, you can have this page translated into either Spanish, French, German, Italian or 8 other languages. All you have to do is choose the language you want this page to be translated to on the Right.
-
Para su conveniencia, usted puede tener esta pagina traducida en Espanol u otros 10 lenguajes mas. Lo unico que usted tiene que hacer , es elegir "Spanish" decea en el menu de la derecha.





A thing of beauty is a joy forever:
Its loveliness increases;
it will never
Pass into nothingness
John Keats
Endymion, Book i.1




Beauty is truth,
truth beauty,
that is all Ye know on earth,
and all ye need to know
John Keats
Ode on a Grecian Urn




She walks in beauty, like the night
Of cloudless climes and starry skies;
And all that's best of dark and bright
Meet in her aspect and her eyes
Lord Byron



Every beauty which is seen here below by persons of perception resembles more than anything else that celestial source from which we all are come . . .
Michelangelo (1475-1564)
Italian painter, sculptor, architect, poet



To see for yourself how our attraction to beauty has changed and yet, remained the same over the years, please, watch the beautiful videos below.

Multiple Studies repeatedly demonstrated that the way you look and your attractiveness will largely influence your life.
In addition to determining who finds you attractive and will be your mate, it may determine your income, how smart you appear to be and your job opportunities.
Although we were told over and again not "to judge a book by its cover", the real world does judge you by your appearance every day and All the time. It is a well-proven fact that attractive men and women get MORE out of life. They get more affection than their siblings from their mothers, more attention from the opposite sex, more leniency from judges and policemen, more votes (just examine recent American politics) and earn more money at work. They are regarded as more capable, confident, healthy and intelligent and successful than others.
(Beauty)...it's a sort of bloom on a woman.
If you have it you don't need to have anything else;
and if you don't have it, it doesn't much matter what else you have.
James Matthew Barrie
Venus emerges from the sea foam on a shell driven to the shore by flying wind-gods amidst a shower of roses.
Botticelli's Venus is so beautiful that we do not immediately notice the unnatural length of her neck, the steep fall of her shoulders and the odd way her left arm is hinged to the body.
But ..."Beauty is in the Eyes of the Beholders"
ONLY IF they see a 1.618034 ratio and/or a 0.7 ratio…
We all know that external beauty is a matter of proportions and symmetry. What many do not know is that these desired proportions involve a simple ratio. From birth, the human eye finds a specific simple mathematical proportion irresistibly appealing and the objects and people that reflect this proportion are regarded as beautiful.
Multiple studies have repeatedly shown that all humans, irrespective of their age and ethnicity, perceive certain body proportions as attractive. In the face, it is the "Divine Proportion" of 1.618 while with the female figure it is a WHR (waist-to-hip ratio) of 0.7. The WHR measures the proportion of fat distribution around the torso and is calculated by dividing the circumference of the narrowest part of the waist by the circumference of the widest part of the hips/buttocks.
Beauty and Sexiness = 0.7 and 1.618
This ratio (5:3, 8:5, 13:8, 21:13 etc) has been called the Divine Proportion, Golden Section, Golden Mean, the Magic Ratio and the Fibonacci Series. It is widely reflected in Nature in the shape of starfish, the spiral of a nautilus seashell, the shape of pinecones and the spirals of galaxies. The Egyptians knew of this proportion and it is represented in the pyramid of Cheops (circa 2900 BC).

The Pythagorean Greeks already knew about the Golden Section in 500 BC and Euclid described it in his major geometry book, Elements, around 300BC. This mathematical basis of apparent harmony was also studied by the famous Greek sculptor and architect, Phidias, who applied it in his works. While subtle, when examined for closely this ratio is widely present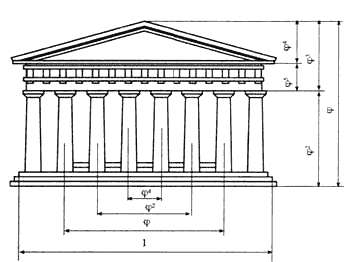 Proportions of the Parthenon in Athens
in architecture and is reflected in the pyramids and Greek temples and monuments. The Parthenon, the temple to Athena, built around 430 BC on the Acropolis in Athens, is based on a Golden rectangle – its width is Phi times (1.618034) its height.
In 1202, Leonardo da Pisa (also known as Fibonacci (son of Bonacci) (See Below) described the numerical series (0,0,1,1,2,3,5,8,13,21,34…) in his book Liber Abaci, a numerical sequence which became known as the Fibonacci series. (Fibonacci is also famous for bringing about the adoption of the Hindu-Arabic numbering system and abandonning the Latin numbering system ( i.e. 1999 vs. MCMXCIX)). In the Fibonacci series each number is the sum of the two preceding numbers and, beginning with 3, the ratio between any two adjacent numbers is 1 to 1.618034 to 1 or its inverse 0.618034. The ratio has been called the "Golden Proportion" and been assigned the Greek letter phi, F, in honor of Phidias, the greatest sculptor of ancient Greece, who used it in his sculptures, among the most famous of which were Athena Parthenos in Athens and the Zeus in the temple of Olympia.
Leonardo da Pisa - Fibonacci

Notre Dame cathedral of Paris demonstrates the sequence

Coneflower demonstrating a dazzling Fibonacci pattern

Cauliflower demonstrating a Fibonacci harmony

A Fibonacci pattern manifested in leaves

A Fibonacci pattern seen in a Chameleon's tail

the ear helix follows a Fibonacci sequence

So do attractive teeth
Da Vinci's Vitruvian Man

The Fibonacci pattern is seen all around us. In nature, Fibonacci patters are seen with flowers, leaves, shells and animals (Click on the pictures above to see greater details). Moreover, artists as diverse as Albrecht Dürer, Leonardo da Vinci and the post-impressionist George Seurat used this ratio in planning their paintings.

The classical mathematical representation of this ratio can be seen in Leonardo da Vinci's Vitruvian Man (Left) and his Mona Lisa or La Gioconda, on the Right.

Phi was also found represented in the musical compositions of Mozart, Bach, Bartok, Berlioz, Debussy, Satie, Schubert and other musicians. The most famous violin maker who ever lived, Antonio Stradivari (Stradivarius), used it to shape the f holes he put in his famous violins.




DaVinci's Mona Lisa - La Gioconda
Beethoven and Fibonacci

Phi is also represented in one of the most famous 4 notes in western music. The four note motif (da da da daaaaah!), which emotionally opens the first movement (Allegro Con Brio) of Ludwig van Beethoven's Symphony No. 5 in C minor, Opus 67 (written between 1804–08).

You can see Herbert von Karajan conducting the Berlin Symphony orchestra in Beethoven symphony No. 5 - Allegro Con Brio on the Right.

The Divine proportion is widely seen in the human body. Our hands beautifully represent this relation. The ratio of the length of the palm divided by the length of the fingers is Phi. So is the ratio of the length of each finger divided by the distance from the first joint (PIP) to the end of the digit, or the ratio of the distance from the first finger joint (PIP) divided by the distance from the farthest-most joint (DIP) to the end of the finger. The ratio remains 1.618034. As a result, as the fingers go from full extension to full flexion, they execute perfect equiangular movement as described by the Fibonacci series and trace out the outlines of nautilus spirals.
The Divine Proportion is amazingly ubiquitous in analysis of the beautiful face. In horizontal analysis, the following widths share a Fibonacci relation; width of the nose, width of the mouth (corner to corner), distance between the lateral corners of the eyes and width of the head at the level of the eyebrow.
In vertical analysis of the beautiful face, the following have ratios of 1.618 are seen :
| | | |
| --- | --- | --- |
| The height of face (distance from the hairline (in the young or top of wrinkled forehead in the older to bottom of chin)(1.618) compared to the height of the eyes (lateral corner of eyes to bottom of chin) (1.0) | the distance from the hairline (in the young, or top of wrinkled forehead in older) to bottom of nose (1.618) compared to the span bottom of nose to bottom of the chin (1.0) | the ratio of the height of the chin (1.618) (from lower lip to bottom of chin) to the height of the nose (1.0) |
- The height of the chin (1.618) (from interface between the lips (the lip embrasure, or stomion) to the bottom of the chin) to the height of the upper lip (1.0) (base of nose to interface between lips with mouth closed).
- The distance from bottom of the lower eyelid (the alar rim) to the bottom of chin (1.618) to distance from the alar rim to the interface between the lips (stomion) (1.0). In addition multiple other areas of the face, both in profile and frontal views manifest this golden proportion.
- and many more golden proportions.
The truth, the absolute truth, is that the chief beauty
for the theatre consists in fine bodily proportions.
Sarah Bernhardt (1844-1923)
French actress
In beautiful faces, Golden or Phi ratios exist between three facial areas – forehead to eye, eye to mouth and nose to chin. While it is unclear why, the ratio of 1.61083 (or phi) is definitely preferred by the human eye and is regarded as beautiful.

Paleolithic (Stone Age) Venus Figurines

Our desire for and strong attraction to curvy figures with beautiful buttocks has been a strongly ingrained human trait which long predates written history and is as old as human existence. Prehistoric men worshiped women with curvaceous bodies and prominent buttocks (see on Right). L to R - Venus of Lespugue (mammoth tusk, France, approximately 25,000 BC), Venus of Willendorf (limestone, Austria 24,000 BC – 22,000 BC), Venus of Dolní Věstonice (oldest ceramic object in world, Czech Republic 29,000–25,000BC).

All world cultures, from the prehistoric cave men, for who the female buttock was the primary sexual attractor, to our present day, have idolized and portrayed the human buttocks in thousands of sculptures and paintings.



Curve Appeal– it's ALL in the Numbers
Exaggerated Breasts, Wasp Waist and large rear in a 1786 English caricature etching

"A Modern Venus or a Lady of the Present Fashion in the state of Nature, 1786
This is the Form, if we believe the Fair, of which our Ladies are, or wish they were"

Women have known for thousands of years that the key to attracting men was by modifying the appearance of their waists. They have known they could increase their attractiveness to men by narrowing their waists, either by "sucking it in", wearing corsets or bustles and/or wearing clothes which narrow the waist and/or emphasize the hips. On the other hand, when they wanted to de-emphasize their sexuality and reduce their attractiveness, they wore clothes (such as coveralls, military or police uniforms, Muslim covers such as the abaya, burqa or chador etc) that accomplish it simply by purposefully blunting and de-emphasizing their waists.



Why have ALL of our ancestors shared this global long-lasting attraction to the hourglass figure and buttocks?


After all, tastes and fashions change continuously. According to evolutionary psychologists, beauty was never in the eyes of the beholder. Instead, to help us pick healthier mates and ensure the survival of our species, our brains were genetically hard-wired to subconsciously see certain body proportions, which are associated with health and fertility, as being attractive. Multiple studies have shown that as women's waists become smaller in relation to their hips, they become more attractive to men. The WHR range for healthy Caucasian premenopausal women is 67 to 80% (0.67 to 0.80) of their hip circumference.



The gold standard for classic beauty, the Venus De Milo (on the Right), has a WHR of 0.7. Despite having different heights and weights, modern beauties such as Rita Hayworth, Jennifer Lopez, Tyra Banks, Kate Moss and Eva Longoria have in common a WHR of 0.67. Lana Turner and Naomi Campbell had a WHR of 0.68. Marilyn Monroe and Sophia Loren shared a WHR of 0.63. Ms. "10" - Bo Derek's WHR was 0.65. Raquel Welch's was 0.64 and Elizabeth Taylor's was 0.58. Finally, Barbie's WHR is reported to be 0.55.

Interestingly, a study reviewing 30 years (1957-1987) of Miss America contestants and Playboy centerfolds found that all had WHR's between 0.68 and 0.71. Finally, in multiple studies involving 20 different countries, a WHR of 0.7 was universally regarded as representing the ideal figure and buttocks.

The high levels of the female hormone estrogen, normally found in pre-menopausal women, are associated with hairlessness, fertility and fat deposition around the buttocks and hips (lowering the WHR). On the other hand, the higher testosterone hormone levels, usually found in men andpostmenopausal women, lead to increase body hair, infertility and increased fat deposition around the waist (with an increase in the WHR).


What makes 0.7 Special?
Why do we regard it as so attractive?



| | |
| --- | --- |
| WHR's of 0.7 have been shown to be a reliable indicators of both youthfulness and long-term good health. Women with 0.7 have optimum levels of estrogen, increased fertility and were even found to have smarter children. Such women are less susceptible to diabetes, gallbladder disease, anxiety/depression and breast, uterine or ovarian cancers and to cardiovascular diseases. In other words, according to evolutionary psychologists, we have all descended from distant male ancestors who wisely or luckily and increasingly chose superior women (those with WHR of 0.7). Mating with these fertile healthy women resulted in successive generations of healthy and fertile children. As a result of winning this evolutionary contest and regardless of race, culture or time, we have all been ingrained to view a relatively narrow waist with the 0.7 WHR as wonderfully attractive. Stated otherwise, evolution is the reason why the women we find attractive also happen to also be healthier and more fertile. | |
In summary, beauty is NOT in the eye of the beholder, is not skin-deep, it is not superficial and is not dictated by magazines or fashion. Beauty and attraction have transcended cultures, races and time because the "Divine Proportion" of 1.618 (phi) and the 0.7 WHR are associated with youthfulness, good health status and fertility and, as such, have been programmed in our minds to guide our search for a mate.



Cosmetic surgery is an investment in yourself.
An investment which could make a world of
difference in your outlook.
Peter A. Aldea, M.D. Patricia L. Eby, M.D.
Certified and Re-Certified by The American Board of Plastic Surgery
Members of the American Society of Plastic Surgeons
Fellows of The American College of Surgeons
Cosmetic Surgery Specialists of Memphis, PLLC
6401 Poplar Avenue, Suite 360, Memphis, Tennessee 38119

Telephone (901) 752-1412


Direct Links to BODY Plastic Surgery Procedures
Memphis Breast Enlargement
Memphis Breast Augmentation Memphis Breast Implants
Memphis
Short Scar Breast Lift (Memphis Mastopexy) Memphis Breast Reduction (Women)
Memphis Digital Scarless Breast Augmentation
Memphis
Male Breast Reduction (Memphis gynecomastia correction)
Memphis
Buttock Enhancement – Memphis Brazilian Butt Lift Memphis Buttock Lift
Memphis
Mommy Make Over Memphis After Pregnancy Figure Restoration
Memphis
AFTER Weight Loss Plastic Surgery for Figure and Face Restoration
Memphis
Tummy Tuck (Memphis Abdominoplasty)
Memphis
Tumescent Liposuction Memphis Liposelection Memphis VASER Liposuclpture
Memphis
Relief of Excessive Sweating
Direct Links to FACIAL Cosmetic Surgery Procedures
Memphis
Eyelid Lift (Memphis Blepharoplasty)
Memphis
Facelift (Memphis Rhytidectomy)
Memphis Forehead Lift Memphis
LATISSE Eye Lashes
Memphis Neck Lift (Memphis plastysmaplasty) Memphis
Nose Surgery (

Memphis

Rhinoplasty)
Memphis Prominent Ear Correction (Memphis Otoplasty) Memphis
Wrinkle Smoothing
Memphis
Botox
Memphis
Juvederm

Memphis

Restylane

Memphis

Perlane


SPECIAL OFFERS

Plastic surgery specialists Dr. Peter Aldea and Dr. Patricia Eby could be your best source for Breast Enlargement, Short Scar Breast Lift surgery, Male Breast reduction surgery, Body contouring surgery, Butt Lift - Brazilian Butt Lift, Mommy Makeover, Figure Restoration after Massive Weight Loss, Tummy Tuck and Abdominoplasty, VASER Liposelection, Liposuclpture. They are experienced cosmetic surgeons who would like to help you with your Eyelid Lift, Blepharoplasty, Facelift – Rhytidectomy, neck lift, Forehead Lift, Nose Surgery – Rhinoplasty, Botox, Juvederm, Restylane, Latisse and Lip Augmentation needs.

Let Dr. Peter Aldea and Dr. Patricia Eby of Cosmetic Surgery Specialists of Memphis, PLLC help unlock and bring out your beauty!

Dr. Peter Aldea and Dr. Patricia Eby have performed Plastic Surgery procedures on satisfied patients from across Tennessee, Arkansas, Mississippi, Missouri and the Mid-South as well as several foreign countries. Their Cosmetic Surgery patients come from Memphis, Germantown, Collierville, Cordova, Bartlett, Arlington, Batesville, Blytheville, Brentwood, Bolivar, Brownsville, Byhalia, Cleveland, Columbia, Covington, Dyersburg, Franklin, Kingston, Smyrna, Jonesboro, Lebanon, Lexington, Columbus, Clarksville, Clarksdale, Cookeville, Crossville, Grenada, Greenville, Henderson, Hendersonville, Hernando, Holly Springs, Lakeland, Lawrenceburg, Martin, Marion, Maryville, Millington, Moscow, Murfreesboro, Nashville, Helena, Munford, Oakland, Olive Branch, Osceola, Forrest City, Paris, Paragould, Pine Bluff, Rossville, Southaven, Savannah, Tupelo, Little Rock, Horn Lake, Huntsville, Jackson, Corinth, Florence, Ripley, Oxford, Senatobia, Union City, West Memphis and Wynne.

Cosmetic Surgery Specialists of Memphis, PLLC is a comprehensive center for plastic surgery and cosmetic surgery excellence. On this website you can learn what makes our practice so unique.


Web Links
The photographs on this web site feature models for illustrative purposes - unless otherwise noted. Photographs of actual patients may be viewed on our photo gallery page.

Use of this site signifies your acceptance of our Terms and Conditions. No part of this website may be reproduced in any manner (text, graphics or photos) without the written permission of Peter Aldea, M.D. and Cosmetic Surgery Specialists of Memphis, PLLC.
All Rights Reserved © 1999-2020 Cosmetic Surgery Specialists of Memphis, PLLC