Free and Quick Translation into 11 Languages - Traducción Libre y Rápida al Español
For your convenience, you can have this page translated into either Spanish, French, German, Italian or 8 other languages. All you have to do is choose the language you want this page to be translated to on the Right.
-
Para su conveniencia, usted puede tener esta pagina traducida en Espanol u otros 10 lenguajes mas. Lo unico que usted tiene que hacer , es elegir "Spanish" decea en el menu de la derecha.






BOTOX®, Xeomin®
and Dysport

Wrinkle Smoothing
Your Most Comprehensive Botox Information Source Online

Dr. Aldea and Dr. Eby
are
The Memphis
BOTOX® and XEOMIN EXPERTS


Let them get rid of your annoying wrinkles,
Look Younger and Refreshed
and Ditch that mask!



(The Zorro mask looked better on Antonio Banderas anyway...)



| | | |
| --- | --- | --- |
| | Botox | Dedication • Experience • Excellence |
Each smile. Each pout. Each frown and each squint folds and creases our facial skin. Through the years, as we repeatedly laugh, frown, squint or concentrate, our facial expression muscles contract and wrinkle the overlying skin hundreds of thousands of times. Over time, much like a smooth sheet of paper which has been folded repeatedly (see Right), this results in permanent creasing, wrinkling and aging of our faces. But – it does not have to be this way.


Botox® and XEOMIN are GREAT and quick way to ERASE Wrinkles.



BOTOX®, XEOMIN and Dysport (Type A Botulinum Toxin, BTX-A) are a natural, safe, highly purified protein derived from the Clostridium botulinum bacteria which has been in medical use close to 30 years.


The Botox / XEOMIN / Dysport Treatment
Botox, XEOMIN and Dysport therapy is a relatively simple; virtually pain free, 10 minute "lunch time" treatment that will dramatically smooth even your toughest active wrinkles within a few days. No recovery time is needed and most people return to work immediately.
Minute amounts of BTX-A (Xeomin, Dysport or Botox) are injected with a tiny needle into the specific points of the muscles causing YOUR wrinkles AFTER the area is fozen with very cold air. The BTX-A (Xeomin, Dysport or Botox) then interferes with the ability of nerve impulses to cause contractions in those specific muscle areas for around 4 months. By relaxing these specific parts of the underlying frowning muscles, BTX-A (Xeomin, Dysport or Botox) smooth active facial lines and wrinkles.
A beautifully rested, smooth, wrinkle-free skin above these muscles and a more placid younger look gradually appears within 3-7 days after the injection. Depending on the individual, the smoothing effect can last 4 to 6 months following which the wrinkling muscles slowly regain their strength and reproduce the wrinkles.



When the Botox/ Xeomin effect begins to wear off in a few months, the wrinkles are frequently not as deep. If the wrinkle areas are treated repeatedly at regular intervals, the frowning muscles become smaller and the duration of skin smoothness increases prolonging the period between Botox or Xeomin treatments.
Botox/Xeomin treatments of wrinkles are especially extremely popular before national holidays, graduations, reunions and summer holidays when families go on vacations. Botox has become the most popular and commonly used cosmetic procedure in the world.

What can Botox, XEOMIN or Dysport

DO FOR YOU

?

Botox/XEOMIN and other BTX-A agents are VERY versatile and has been used safely all over the world for years. It is most commonly used to smooth such facial lines and make certain areas of your face look smoother, younger and more refreshed. Although it is FDA approved to smooth "Worry Line" wrinkles in the glabella (base of the nose between the brows), Botox has many other "off label" uses.

I
n the R

ight, Properly-Trained Hands

, Botox and Xeomin can:
Smooth horizontal forehead wrinkles ("Frown Lines")
Smooth the "Crow's feet" wrinkles along the side corners of the eyes
Smooth "Bunny Lines", the ugly wrinkles on the upper bridge of the nose resulting from snarling or scrunching the nose
Smooth Vertical Lip lives ("Smokers' Lines")
Lift and arch the Eye Brows (so-called "Chemical Brow Lift")
Lift down turned corners of the mouth, giving a more youthful up turned appearance
Correct a "Gummy Smile" by lowering an overly lifted upper lip exposing the upper gum




Lift droopy noses associated with smiling

Smooth contracted ball like chins

Relax and correct prominence of the Masseter (chewing) muscle and reduce pain from tooth grinding

Correct the Prominence of Neck Cords or Platysmal Bands ("Turkey Neck")

A combination of several of the items above used in conjunction with wrinkle fillers is also called a LIQUID FACE LIFT

Correct and dry up excessive armpit sweating (hyperhydrosis)



Non-cosmetic uses of Botox and Xeomin – Botox is also used for non-cosmetic medical conditions. Although we do not treat these purposes in our practice, Botox and Xeomin may also be used to improve blepharospasm (involuntary blinking), overactive bladder, migraine, cluster and tension headaches, lower back pain and neck pain, in spastic disorders, as may be seen after stroke or cerebral palsy and to control spasms of the esophagus (Achalasia, the inability of the lower esophageal sphincter to relax), or vocal cord muscles. It has been also reported to be useful in pelvic muscle spasms, drooling, hair loss, anal fissures and pain from missing limbs (Phantom limb pain).

Botox Before and After Botox photos
| | |
| --- | --- |
| © Allergan | |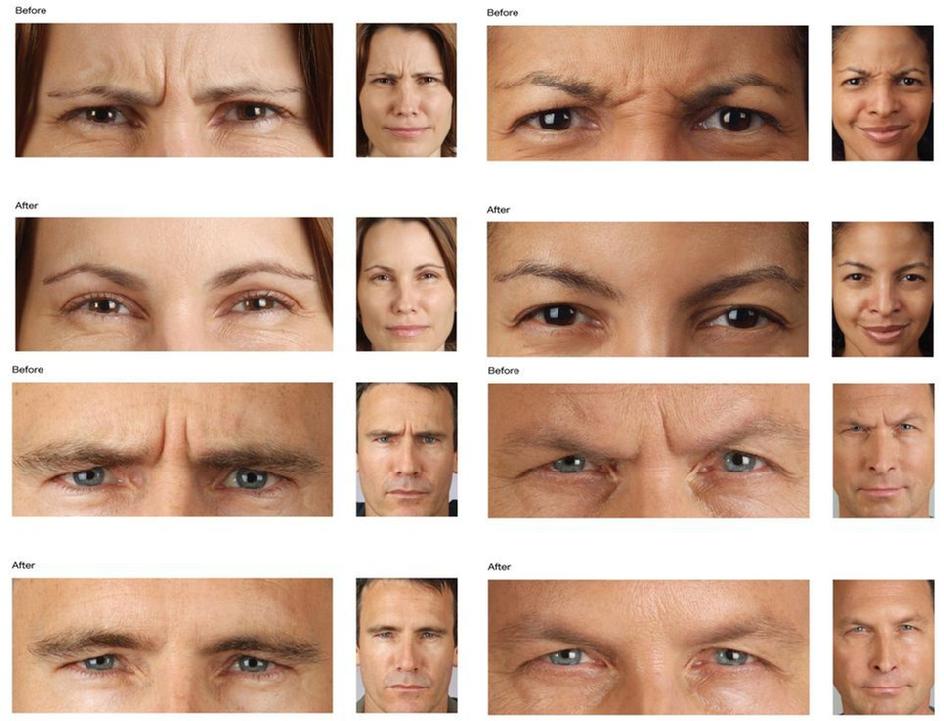 ©Allergan

What Could Botox and XEOMIN do for You?


If you want to see what YOU may look like with Botox, visit the Allergan

BOTOX VISUALIZER page

and upload your photo or use your web cam. (

Click on the picture on the Right

)
With the BOTOX® TREATMENT VISUALIZER, you can now picture yourself after treatment with Botox Cosmetic by either uploading YOUR photograph or by using your webcam to photograph you. Alternatively, you can see how Botox treatment can improve the appearance of four other individuals of your choice.



What can go wrong? Botox's Side Effects

I
n the right hands of a Plastic surgeon, BTX-A (Xeomin, Dysport and Botox) are

very

safe treatments with only rare serious side effects. Because BTX-A are broken down metabolized at the injection site, they do not not spread to any other parts of the body. Some known side effects may be temporary headache, slight bruising (if you are taking aspirin and Advil like medications or supplements) or Flu-like symptoms. Understandably, Botox and Xeomin should not be used in the presence of infection at the proposed treatment site(s) or in individuals with known allergies or hypersensitivity to any ingredient in the formulation. In addition, if you have either a personal or a family history of certain neuromuscular disorders, you should not be treated with Botox or Xeomin as it may result in increased risk of clinically significant systemic effects.
The interplay of 40 facial muscles determine our facial expressions

Our facial expressions are created by the competing pulling contractures of 20 different pairs of facial expression muscles. As a result, these 40 muscles produce hundreds of different facial expressions which vary from very subtle to extreme. The ability to create of pleasing, natural and youthful expressions with Xeomin, , Dysport or Botox totally DEPENDS on your doctor having both a good knowledge of facial anatomy

and

an artistic sense.

Without them your results will be average or poor.

For business reasons, in most offices and spas, the vast majority of "injectables" ( BTX-A and wrinkles fillers are done by "injectors" while the doctor engages in surgery or more lucrative, greater money producing office activities. As a result, only a small minority of the people injecting Botox and Xeomin posses such requisite knowledge and skills. Furthermore ANY doctor regardless of their training (such as OB-GYN, Chiropractors, Family Practice etc) can legally and often offer Botox treatments. While physicians in aesthetic specialties (such as Plastic Surgery, Dermatology, ENT or Ophthalmology) clearly have a greater understanding of facial anatomy,

by law

, any healthcare professional, regardless of their training, who wishes to, and almost anyone who is "supervised" by a doctor, can legally inject Botox.



Botox use is no longer limited to only qualified Plastic surgeons or Dermatologists. The extreme popularity of Botox had caused it to be injected everywhere and by everybody, regardless of qualifications and training. All medical, dental and even chiropractic fields have jumped on the Botox bandwagon, as have many non-medical personnel and aestheticians.
In recent years we have seen an explosive growth in non-surgical cosmetic procedures which are often performed in retail or spa-like settings without real medical supervision or experience. Lured by profit, despite lacking experience and training and having, at best, only limited and often no full time medical staff, many spa-type centers, now offer chemical peels, dermabrasion, lasers, wrinkle fillers and Botox to an unsuspecting clientele in many shopping malls, beauty salons and strip malls.

Botox Injection Template (yellow arrow)

Do you REALLY know your Botox / Wrinkle Fillers' injector's training and qualifications?

Although Botox® injections are supposed to be done, or at least, "supervised" by a qualified doctor, in reality, sadly that rarely happens. In fact, the vast majority of Botox and wrinkle filler treatments in the US are given by non-doctor injectors, most of which do not fully know facial anatomy, do not understand the balanced interplay between the different facial muscles and do not possess the artistry required to produce natural results. The "supervising" doctor can be elsewhere in the office or me miles away in another facility. Obviously there is NO real supervision and the results we see speak for themselves.
Instead, many of them rely on "injection templates" published by Allergan, the manufacturer of Botox (see on Left), which appears much more focused on its bottom line, based on the number of vials of Botox sold, than on the quality and naturalness of the treated results.



Understandably, the average Botox results out there speak for themselves and have long been easy marks for predictable jokes. Just think – have you ever heard the term "Bad Botox" and how many Botox jokes or cartoons have you heard or seen?




The Spockification of America




T

ens of thousands of inexperienced Botox injectors with poor anatomical understanding commonly and indiscriminately follow the Allergan template (see above and below) on everyone; the unfortunate results are common and obvious. See for yourself. Never in human endeavor have so many graceful (brow) arches been flattened, collapsed and distorted.




Mr. Spock would find it quite "illogical" for people paying for this "done", Vulcan-like, dropped inner eyebrow look
BE SMART

-
Non-Surgical DOES NOT mean ≠ Non-Medical
Just because anyone CAN inject Botox, Does NOT mean that YOU should let anyone inject YOU
For YOUR safety, you should only have cosmetic procedures (including tissue filler injections, laser, skin resurfacing, Botox and fillers) from properly trained and board-certified cosmetic medical professionals (Plastic surgeons and cosmetic dermatologists) who use only Food and Drug Administration (FDA) approved products.
| | |
| --- | --- |
| COST of XEOMIN, Dysport and BOTOX | |
SAVE MONEY

and

GET BETTER CARE!
Use the Botox and Wrinkle Filler Injection Comparison Sheet

F

or your safety and convenience print and carefully review the sheet on the right. Please, feel free to use it to carefully and methodically compare our practice in terms of experience, care and cost of Xeomin, Botox and wrinkle fillers against all other practitioners and injectors.




Botox and Wrinkle Filler Injection Comparison sheet
If you think you know enough. Stop here. Print the form above and use it to compare ALL Botox providers in your area. It will help you greatly to separate the good Botox and wrinkle filler deals from the duds.
The form will make your Botox shopping much easier and help you make sure you ask all the right questions. Get your money's worth - Choose carefully!

If you wish to learn everything about Botox economics and REALLY understand and be able to compare "apples to apples" in deciding where to get your Botox treatment, continue reading. You will not regret it.


When is a

REAL

Cheap Botox Deal – Not really a Deal?
THE BEST BOTOX DEAL IN MEMPHIS SCENARIO
You found the cheapest Botox in Memphis. At under 10 dollars a unit, the Botox here is cheaper than that Dermatologist or Plastic surgeon's
office you called and even cheaper than your GYN's and Family Practice office where they began offering Botox last month. So what's not to love?
As you sit in the treatment chair, nervously congratulating yourself silently on the deal you nailed down, you probably do NOT spend much time looking at that "Botox" syringe awaiting you on the counter; The one you are about to be injected with. After all, in this is an upscale spa, why would you even doubt that the syringe facing you has both the real thing and the quantity of the real thing that you paid for?




But – do you REALLY know what's in the syringe?
Does it contain real Botox or an imitation?
WHERE did this Botox come from?
How was it kept frozen in shipping to keep it active?
HOW MANY UNITS of active Botox are really in the syringe and why does it matter?
HOW OLD and active is that Botox?
Now look at your smiling injector, how do you know she / he really knows what they are doing?



Be honest, you do not know the answers to any of these questions. All you know is that the Botox is cheaper here.
For most people, buying Botox is very much buying a "cat in the bag". Let's get educated on the "Botox Business".

The SELLING of Botox

The DARKER side
of Irresistible Botox Bargains

(How to recognize and stay away from "Botox Bob")





Botox Bob
A reality moment - just as there is no free lunch, there is no free Botox. Here are a few simple facts you must know. We are going to explain each one.
"I don't want that artificial, done, frozen face Botox Look"

Cat in the Bag - Scenario 1

? Experience, ? Knowledge and ? Skill of the person giving you the Botox



Not all Botox treatments will turn out equally well because NOT all Botox injectors are equal.
- They are not equally artistic.
- They are not equally trained and
- There is a huge variability in their knowledge of facial anatomy and in their clinical skills.

You need to decide WHO to trust your face to
Dr. Aldea and Dr. Eby are XEOMIN and BOTOX® EXPERTS



1. You will be treated by

double

board certified and RE-certified Plastic surgeons educated at Columbia, Stanford, Duke, Baylor and Harvard Universities.

How does this compare to YOUR injector?



2. Dr. Aldea and Dr. Eby are The Memphis XEOMIN and BOTOX® EXPERTS.
Dr. Aldea and Dr. Eby's extensive clinical experience with Botox is the longest in Memphis. Dr. Aldea and Dr. Eby were among the very first to begin use Botox for cosmetic applications in Memphis. How does this compare to YOUR injector?

3. ANATOMICAL EXPERTISE. In addition to being an experienced Plastic surgeon with many awards, Dr. Aldea is an Anatomist. Dr. Aldea received both a Master's Degree in Anatomy and his M.D. degrees from the prestigious Columbia University in New York. There Dr. Aldea taught Anatomy to hundreds of medical and dental students. He is the only surgeon in Memphis with such background and education. How does this compare to YOUR injector?
4. PLASTIC SURGEON ADMINISTERED BOTOX. When you come to us, your Botox® will always be personally administered by your choice of either Dr. Aldea or Dr. Eby. Drs. Aldea and Eby enjoy the artistry of properly administering Botox. Unlike most medical practices in Memphis, Drs. Aldea and Eby choose not to delegate the administration of Botox to a subordinate injector (such as a nurse, nurse's assistant or an aesthetician). Dr. Aldea and Dr. Eby's patients are overwhelmingly thrilled with their new natural and younger look. Moreover, many repeatedly tell us that despite their rested and attractive new looks, nobody ever realized that they had any cosmetic treatment! How does this compare to YOUR injector?

5. INDIVIDUALIZED CUSTOM CARE. Dr. Aldea and Dr. Eby focus on individualized attention to EACH of our patients and their




Dr. Aldea and Dr. Eby Personally administer ALL Treatments and do NOT use "injectors"
goals. You will not be rushed in and out. We will listen to your concerns and goals. We use clean cold air to reduce and minimize pain. More importantly, we do not use templates, robotically injecting all our patients according to Allergan recommended templates (

see above

). Each of our patients is individually carefully analyzed and Botox is artistically applied to bring out the look desired by the patient. Dr. Aldea and Dr. Eby pride themselves on their personalized approach to each patient. As a result they achieve artistic natural, youthful looks rather than dreaded and all too common frozen, drooping Mr. Spock effects shown above. How does this compare to YOUR "injector"?

Do not take chances with your appearance.
For a professional result, get your Xemin, Dysport, Botox and Wrinkle Fillers
from the Botox and XEOMIN Experts - Dr. Peter Aldea and Dr. Patricia Eby
"I did not see any improvement" OR " I heard people get Botulism from Botox"

Cat in the Bag – Scenario 2
Fake Botox and Gray Market Botox

Are you getting REAL Botox, Gray market or outright Fake?
DON'T BE SO SURE!



The huge growth in the popularity of Botox coupled by the potential of reducing costs and increasing profits by using cheaper "Botox", have led many American physicians, spas and others to willingly break the law by buying what they think is "Botox" from either Canada or on online.
All popular products (such as designer bags and fashions and others) encourage the creation and sale of fakes. The huge world wide popularity of Botox encouraged the production and importation of fake or counterfeit "Botox" of dubious quality, principally from China and other countries.
The Bootleg Botox problem is big problem which is getting bigger. Doctors now



regularly get solicitation faxes, E mails and letters offering much cheaper "Botox" or Botox-like products for steep discounts of 70 to 80% off the

real

Botox® Cosmetic and there are dozens of websites offering such products.

The Food and Drug Administration (FDA) found black-market botulinum shipments coming from all over the world. But much originates from China, where it is sold under brand names such as BTX-A, Botutox, Quick Star and Linurase and others. (If you doubt it, check out but one of these sites HERE). These drugs are not U.S. government approved and buying them is illegal. At best, bogus Botox products might contain sugar. At worst, they can be contaminated with materials not intended for injection into humans. (You may read more at these sources: article 1, article 2 and article 3).



H

o

wever, when one buys "Botox" online or internationally, you have no assurance of the

source

of the Botox, how it was

stored

and how it was

shipped

. To keep it effective, Botox must be stored and shipped in under freezing temperature. If the "Botox" offered you at a great price unbeknown to you (or even to your doctor) was previously thawed either in storage or in shipping, your results will be poor at best.
Botulism is unheard of with the proper use of Botox. To get botulism accidentally from a real Botox treatment, one would need to be accidentally injected with 30-100 vials of Botox® Cosmetic. A practical impossibility since we rarely use more than a single vial in a treatment. (Yet, in 2005, there have been scary reports in the TV and print media of botulism from "Botox Treatment" in a clinic in Florida. A FBI investigation later proved that the osteopathic physician involved was

not

a Plastic surgeon and was operating with a suspended medical license, injected his unsuspecting patients not with Botox® Cosmetic but with huge doses of a knock-off type A botulinum toxin which was never intended to be used in humans. This individual was sentenced to three years in federal prison, after a day of testimony from victims and experts. In the ongoing effort to cut costs, such rare practices may exist).
While your chances of getting fake or bootleg "Botox" are much higher when its price drops below 10 dollars per unit and / or great "Botox" deals are offered outside of doctors' offices – that is NOT always the case.
Please see the FDA release (PDF) on the right.
As you can see below, there have already been two well-publicized cases where over 190 unsuspecting patients received fake botulinum toxin from unprincipled board certified plastic surgeons.




FDA Warning of Botox Scam
On 7/10/2009, Southeastern Plastic Surgery, a Plastic Surgery group in Gastonia, North Carolina was accused of altering or removing drug labels and dispensing an imitation or offering a drug for sale under another name. In 2004, the group apparently purchased 10 vials of fake "Botox" from Arizona-based Toxin Research International (TRI) for a lot less than Botox would have cost. The group then allegedly injected them AS BOTOX into 40 unsuspecting patients pocketing the difference.




Department of Justice Pres Release for Albany,New York case below
In northern New York, on 8/11/2009, five Plastic surgeons, their nurse and office manager of one of Albany's largest Plastic Surgery groups, pled guilty to misdemeanor charges in Federal court admitting that from February through December 2004, they injected 151 unsuspecting patients, who thought they were receiving the genuine product, with a fake (TRI obtained) knock-off "Botox", which had not been approved by the FDA for use on humans.
For your safety, always make sure your Plastic surgeon uses genuine BOTOX® Cosmetic not "imported" Botox (which may be inactive, due to poor handling, or worse yet, a fake Chinese or North Korean knock-off).

| | |
| --- | --- |
| The label on real Botox bottles has a hologram to make forgery harder. For your safety, ask to see the actual Xeomin or Botox® Cosmetic bottle you are about to be treated with and look for the hologram (see on Right). An ethical doctor would not mind showing you the Botox bottle. | Look for the Hologram on Your Botox Bottle |
Remember

-
You don't always get what you Want
but
You

always

Get What you Paid For
| | |
| --- | --- |
| | DRS. ALDEA AND EBY ARE FOCUSED ON SAFETY - We never "cut corners" or use cheaper, knock-off, Canadian or internet derived "Botox. We will gladly show you your Xeomin or Botox vial to determine its authenticity. |
"Botox just does not work on me…" , "I did not see any improvement"
or "The Botox did not last very long"

Cat in the Bag – Scenario 3

- How much ACTIVE Botox are you REALLY getting
- Are you getting FRESH and ACTIVE Botox?
- Are you getting Old, less active Botox?
- Are you getting Watered down, Diluted Botox?



Using less units of active BTX-A (Xeomin, dysport or Botox) results in a shorter duration of wrinkle smoothing. Same short results with over dilution (greater dilution = more saline and less Botox) per syringe or, by using older Botox (a long delay between the time the Botox was thawed and mixed with saline and when it was injected into the patient).

But, when you look at the syringe full of clear liquid you are about to get,
HOW do you know the number of ACTIVE units of Botox in it?
Are you getting what you paid for OR are you getting a diluted version?
All BTX-A 's (Xeomin, Dysport and Botox)agents come as clear powders that before using needs to be mixed carefully with sterile saline before use. A vial of Xeomin or of Botox® Cosmetic contains 50 or 100 units of a nearly clear powder that needs to be carefully mixed with sterile physiologic salt water (saline) and used promptly to achieve good results. Dysport comes in with 300 unit vials.
The number of milliliters (or cc) of saline added to each BTX-A vial will determine the number of BTX-A (Xeomin, Dysport or Botox) units per milliliter (Example- 10cc of saline added to 100 unit vial will give 10 units per cc while 4 units gives 25 units per cc).




Increasing dilution Left to Right - CANNOT be seen with Botox because it is clear
But, unlike the picture of dilution above, because BTX-A are clear, you cannot really guess how dilute YOUR Botox syringe is just by looking at it. Unfortunately, you have no way of knowing if you are getting a overly diluted Botox and are paying for less Botox units than you are really getting.
If the Botox price quoted you appears unusually low, you can be sure that they use a greatly diluted, watered-down with LESS Botox units per syringe, giving you LESS than you paid for (with a predictable shorter duration of the wrinkle smoothing effects).

YOUR Botox result will depend not only on the skill and knowledge of the person treating you -
but also on his/her using genuine, fresh, non-watered-down, non-counterfeit or black market Botox
| | |
| --- | --- |
| | DRS. ALDEA AND EBY ARE COMMITTED TO GETTING THE BEST AND MOST PLEASING XEOMIN / BOTOX RESULTS FOR THEIR PATIENTS. To do so they always use fresh and active Xeomin / Botox. Their beautiful and natural Botox results speak for themselves. |
Cost of Botox and Xeomin in Memphis
Prices for Botox® and Xeomin treatments vary significantly by the region (

contrast Beverly Hill, California 90210 and Memphis, TN 38119 for example

), by the cost of the Botox vial (

real vs. cheaper sources such as gray market or fake

), the number of units of Botox actually given, the actual dilution of Botox (

the actual amount of Botox in the syringe

), and the number of syringes used in your treatment.
As regards the current cost of Xeomin and Botox treatments, our fees are extremely competitive, not only within our own metropolitan Memphis area, but even more so in comparison with Botox fees charged everywhere in the United States. Especially when you consider WHO does your treatment - an aesthetician/nurse vs. Dr. Aldea and Dr. Eby themselves - double board certified Plastic surgeons with over 20 years of experience each.
In 2008, the average charge for Botox nationwide was close to 16 dollars per unit of Botox. In the Memphis area, the charges for Botox vary from 10 to over 18 dollars per unit. At the present time, we charge $12.40 per unit for Plastic surgeon administered Botox.


M

oreover, we offer additional saving and special deals on Botox.

Simple. We are THE best Botox Deal in Memphis.
| | |
| --- | --- |
| Not convinced yet? Call around and Compare Dr. Aldea and Dr. Eby against all the other Botox injectors in Memphis and the Mid-South. Please, use the Botox and Wrinkle Filler Injection COMPARISON SHOPPING Sheet to carefully and methodically compare Dr. Aldea and Eby against all others in experience, care, cost and personalized service. | Botox and Wrinkle Filler Injection Comparison sheet |
After you compare Dr. Aldea and Dr. Eby to the others you'll easily find that they are the Memphis Botox Experts and the logical choice for your Botox needs.



Dr. Aldea and Dr. Eby are THE logical choice for your Botox needs.
You will not find better care anywhere else.



This web site has been prepared to give you a basic understanding of this type of cosmetic procedure. If you want to learn more or have any further questions, please call us at (901) 752-1412 to arrange a consultation with one of our doctors. You will be under no obligation to undergo surgery by attending a consultation with either Dr. Aldea or Dr. Eby.

Please, call 752-1412 for your appointment today!

Cosmetic surgery is an investment in yourself.
An investment which could make a world of
difference in your outlook.
Peter A. Aldea, M.D. Patricia L. Eby, M.D.
Certified and Re-Certified by The American Board of Plastic Surgery
Members of the American Society of Plastic Surgeons
Fellows of The American College of Surgeons
Cosmetic Surgery Specialists of Memphis, PLLC
6401 Poplar Avenue, Suite 360, Memphis, Tennessee 38119

Telephone (901) 752-1412


Direct Links to BODY Plastic Surgery Procedures
Memphis Breast Enlargement
Memphis Breast Augmentation Memphis Breast Implants
Memphis
Short Scar Breast Lift (Memphis Mastopexy) Memphis Breast Reduction (Women)
Memphis Digital Scarless Breast Augmentation
Memphis
Male Breast Reduction (Memphis gynecomastia correction)
Memphis
Buttock Enhancement – Memphis Brazilian Butt Lift Memphis Buttock Lift
Memphis
Mommy Make Over Memphis After Pregnancy Figure Restoration
Memphis
AFTER Weight Loss Plastic Surgery for Figure and Face Restoration
Memphis
Tummy Tuck (Memphis Abdominoplasty)
Memphis
Tumescent Liposuction Memphis Liposelection Memphis VASER Liposuclpture
Memphis
Relief of Excessive Sweating
Direct Links to FACIAL Cosmetic Surgery Procedures
Memphis
Eyelid Lift (Memphis Blepharoplasty)
Memphis
Facelift (Memphis Rhytidectomy)
Memphis Forehead Lift Memphis
LATISSE Eye Lashes
Memphis Neck Lift (Memphis plastysmaplasty) Memphis
Nose Surgery (

Memphis

Rhinoplasty)
Memphis Prominent Ear Correction (Memphis Otoplasty) Memphis
Wrinkle Smoothing
Memphis
Botox
Memphis
Juvederm

Memphis

Restylane

Memphis

Perlane


SPECIAL OFFERS

Plastic surgery specialists Dr. Peter Aldea and Dr. Patricia Eby could be your best source for Breast Enlargement, Short Scar Breast Lift surgery, Male Breast reduction surgery, Body contouring surgery, Butt Lift - Brazilian Butt Lift, Mommy Makeover, Figure Restoration after Massive Weight Loss, Tummy Tuck and Abdominoplasty, VASER Liposelection, Liposuclpture. They are experienced cosmetic surgeons who would like to help you with your Eyelid Lift, Blepharoplasty, Facelift – Rhytidectomy, neck lift, Forehead Lift, Nose Surgery – Rhinoplasty, Botox, Juvederm, Restylane, Latisse and Lip Augmentation needs.

Let Dr. Peter Aldea and Dr. Patricia Eby of Cosmetic Surgery Specialists of Memphis, PLLC help unlock and bring out your beauty!

Dr. Peter Aldea and Dr. Patricia Eby have performed Plastic Surgery procedures on satisfied patients from across Tennessee, Arkansas, Mississippi, Missouri and the Mid-South as well as several foreign countries. Their Cosmetic Surgery patients come from Memphis, Germantown, Collierville, Cordova, Bartlett, Arlington, Batesville, Blytheville, Brentwood, Bolivar, Brownsville, Byhalia, Cleveland, Columbia, Covington, Dyersburg, Franklin, Kingston, Smyrna, Jonesboro, Lebanon, Lexington, Columbus, Clarksville, Clarksdale, Cookeville, Crossville, Grenada, Greenville, Henderson, Hendersonville, Hernando, Holly Springs, Lakeland, Lawrenceburg, Martin, Marion, Maryville, Millington, Moscow, Murfreesboro, Nashville, Helena, Munford, Oakland, Olive Branch, Osceola, Forrest City, Paris, Paragould, Pine Bluff, Rossville, Southaven, Savannah, Tupelo, Little Rock, Horn Lake, Huntsville, Jackson, Corinth, Florence, Ripley, Oxford, Senatobia, Union City, West Memphis and Wynne.

Cosmetic Surgery Specialists of Memphis, PLLC is a comprehensive center for plastic surgery and cosmetic surgery excellence. On this website you can learn what makes our practice so unique.


Web Links
The photographs on this web site feature models for illustrative purposes - unless otherwise noted. Photographs of actual patients may be viewed on our photo gallery page.

Use of this site signifies your acceptance of our Terms and Conditions. No part of this website may be reproduced in any manner (text, graphics or photos) without the written permission of Peter Aldea, M.D. and Cosmetic Surgery Specialists of Memphis, PLLC.
All Rights Reserved © 1999-2020 Cosmetic Surgery Specialists of Memphis, PLLC